Greater Manchester Youth Foundation
We were privileged to revamp and invigorate the GMYF brand, honouring its lengthy legacy while emphasising that it is committed to younger generations.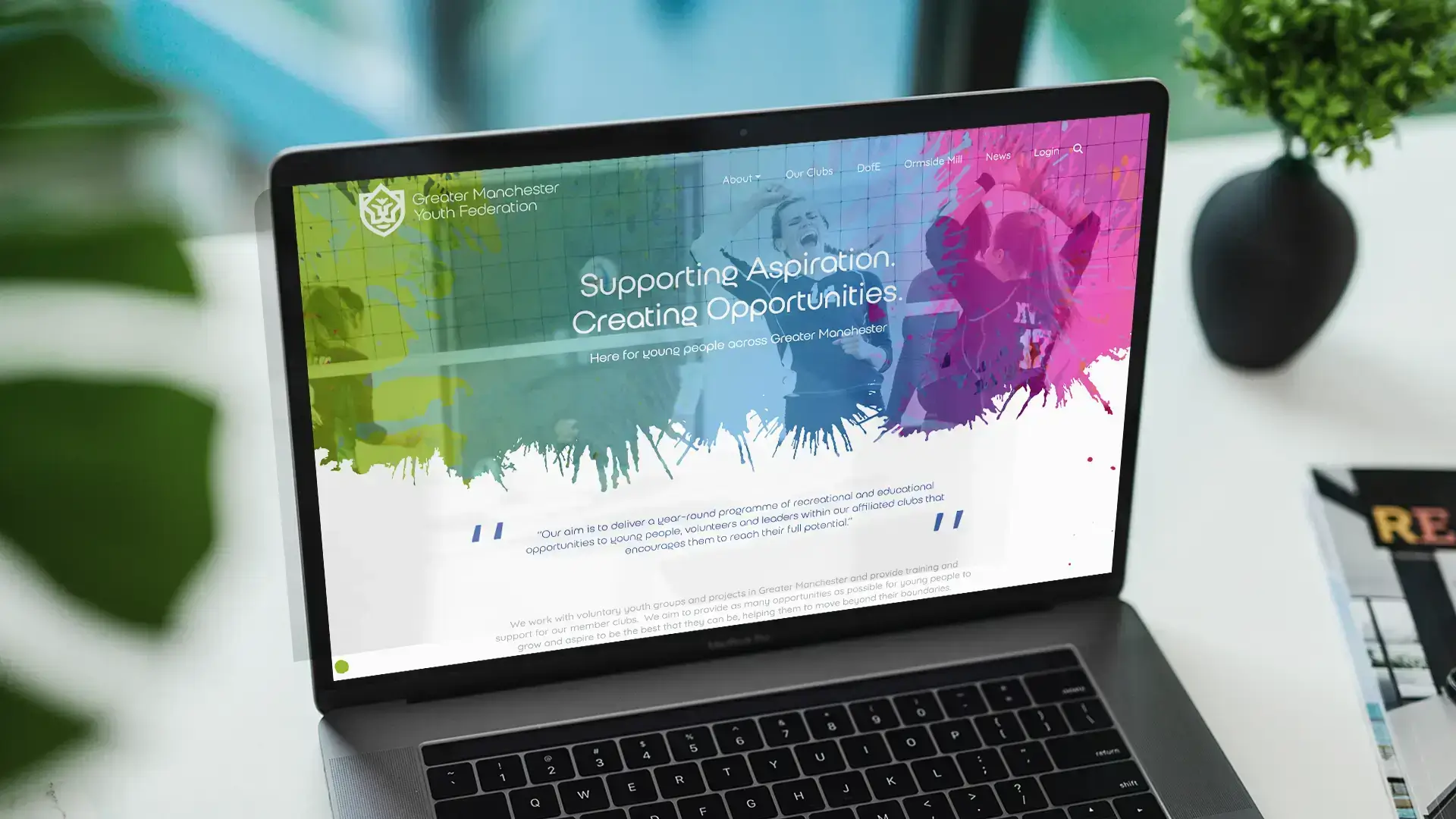 The Greater Manchester Youth Federation has a long, stretching back over 100 years, and inspiring history of supporting young people. Over the course of 2021 we worked with them to develop a whole new brand that would successfully set them up for the next 100 years.
Formerly known as Boys and Girls Clubs Greater Manchester they were on the look out for a new name, one that is both inclusive and reflective of the area in which they operate – this led to the choice of Greater Manchester Youth Federation.
Work didn't stop at a new name however, we worked with them to develop an updated brand – they had previously had a light purple as their key colour and a quite detailed logo featuring an upstanding lion. It was vital that the new brand marked a break with the past – to make it fresh and modern – without losing their sense of identity and purpose. To this end we developed a colourful brand using a splash incorporating pink, purple, yellow and green, which would help them stand out and refreshed their logo, simplifying and sharpening it up without losing the lion. The lion and shield logo represent activity and safety, key themes for the GMYF.
Once the name was agreed we created assets based on the agreed brand including word, PowerPoint and other stationery, whilst also rebuilding their website to reflect their new identity as well as the member organisations that the GMYF represented.
Delivering an effective rebrand was only the beginning – working together, we were able to fulfil our mission of developing a website that gave GMYF the perfect platform to promote its work. With the web design and development services we provided, GMYF are now able to provide meaningful experiences online for young people, member clubs and potential members! The new website serves as a resource for young people and their families searching for activities in their local area and clubs to join while also acting as a resource for the member clubs who have access to a private portal where they can access a Document Library and communicate via a messaging board.
Working in close collaboration with Greater Manchester Youth Federation was an exciting rebrand project. Our artistic and tech-savvy team worked diligently to craft a brand new identity that not only expresses the energy and enthusiasm of the GMYF but also their proud history as an organisation serving Greater Manchester for over 100 years.
Not sure how to rebrand or relaunch your website? We are here to help! Whether you need a simple logo refresh or a complete rework of your web design and development, we will work with you to create something truly unique.