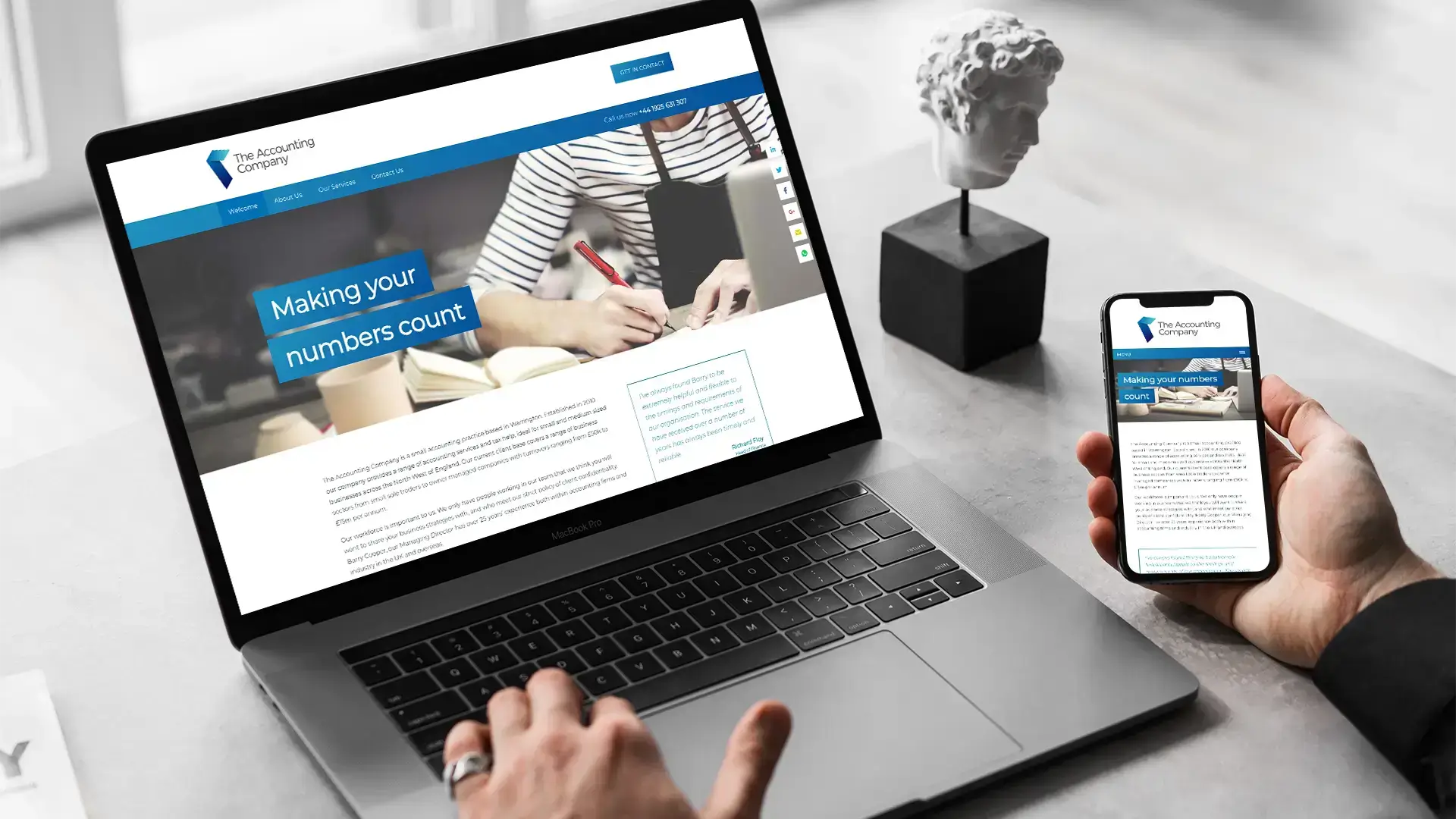 The Accounting Company, a Cheshire-based accounting firm, approached us to help completely update their look. Their objective was to take their current business structure and franchise it, so we needed to create an eye-catching and appealing brand that would appeal to both existing and potential franchisees.
We explored how accounting could come across in the brand, leading to us using the chartered accountants inverted tick as the main visual within the logo. We then used blue gradients to help give an enthusiastic and personal feel to the brand, while still conveying a sense of professionalism and expertise.
With the branding in place, we then turned our attention to the website design and development. We wanted to create a website that would be both visually appealing and easy to use, with a focus on providing clear and concise information about The Accounting Company's services and franchise opportunities.
To achieve this, we used a responsive design that would ensure the website looked great and functioned well on any device, from desktop computers to mobile phones. We also ensured that the website was optimised for search engines, with carefully researched keywords and meta descriptions that would help to improve the website's visibility and search engine rankings.
In addition, we included bespoke functionality, such as online appointment booking and a franchisee application form, to provide a more efficient and streamlined experience for users. We also integrated social media links and feeds to help build the company's online presence and increase engagement with customers and potential franchisees.
The end result was a modern, sleek, and responsive website that effectively conveyed The Accounting Company's brand message and franchise opportunities. The website's improved search engine rankings and user-friendly interface helped to increase traffic to the site, resulting in a significant increase in inquiries and franchise applications for The Accounting Company.
Through our branding and website design and development work, we were able to create an eye-catching brand and website that effectively supported The Accounting Company's franchise expansion objectives. The bespoke functionality we incorporated made it easier for users to engage with the company, while the improved search engine rankings helped to increase visibility and attract new franchisees. As a result, The Accounting Company was able to successfully franchise their business and expand their reach into new markets.